Thu, 11/17/2016 - 11:14

by

matt.decof_79274
Every child has the dream of getting on the cover of his/her favorite magazine. When it comes to the little athlete in your life, nothing makes them smile more than the recognition of their hard work -- and what better way to show your appreciation than displaying it for everyone to see? Instead of tossing any old photo into a frame, take that action shot and bring it to life on a personalized magazine cover. With endless options for every sport and publication, you're sure to light up the face of your baserunner with an unforgettable gift.
Sports Illustrated Themes For the Sports Illustrated fanatic, use the blank template to recreate this iconic magazine cover. By adding your child's favorite photo to our cover editor, you'll be able to edit text in a number of places, adding things like their 'favorite pre-game snack' and 'the game-winning home-run interview'. This cover is sure to bring a smile to the face of anyone, and your child can proudly show off their cover to everyone who enters the home. This sure beats small trading card photos that can get lost rather easily. Gifts For The Team The traditional pizza party typically follows the last game of the season -- why not add a twist to the fun? Grab a 'Champions' themed magazine cover, and include a photo of the whole team. You can customize the text to be all about the season along with stats and inside team memories and jokes like the 'must-know high-five tactics for winning' and much more. Each child will cherish the memory of their season and their first magazine feature. Coaches The heart and soul of each team dedicates hours upon hours to his/her craft. At the end of the season, show your appreciation and create a 'Best Coach' cover for them. Featuring things like 'The must know winning strategy' and 'the pep-talk of a lifetime' are just a few things you can feature on the cover to show your gratitude to the ones who have dedicated their time to help your child's team. When you're ready to get started, head on over to the Cover Editor and begin creating the magazine cover for the ages. With an instant download option and a low price of $9.95, there's no better personalized gift to give to that special athlete or coach! For examples of previously created magazines, make sure to like us on Facebook, and find us on Pinterest!
Thu, 10/22/2015 - 14:20

by

admin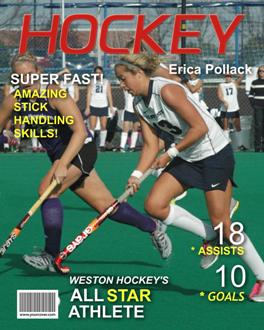 The Major League Baseball World Series starts in less than a week.  This year if the teams could play after Election Day in November if The Series goes the full seven games.  The NFL season is also approaching the halfway point.  The NBA season is also slated to tip-off in late October.  But what about hockey? The scholastic Field Hockey season is nearing the end of the regular season having been in full bloom for almost two months already.  The National Hockey League season is also underway.  Field Hockey is played almost exclusively by girls and women in the U.S., while in the U.K it is a very popular men's sport.  Really. Whether you are celebrating your scholastic, club, or travel team, remembering the high points of the field hockey season, teammates, and coaches is important.  If you are looking for a unique field hockey gift for the team or coach, a personalized HOCKEY magazine cover from YourCover.com is a great way to keep those memories fresh and in the forefront.  And it's so easy and fast! The HOCKEY template is ready to go, all you need to do is upload a photo or two, and customize the headlines to be about the field hockey player, coach or team on the front cover. YourCover can professionally print and frame your team gift or download an instant jpg photo file and print it yourself.  It's fast, easy, personal, and nobody else you know will do it. Try YourCover today for a unique field hockey team or coach's gift!
Thu, 09/24/2015 - 14:26

by

admin
Boss' Day 2015 is being celebrated on Friday October 16. Need a gift that's special, but need it fast and inexpensively? Make a Best Boss personalized magazine cover at YourCover. This Bosses Day gift can be made in a manner of minutes and you can download the photo file for self-printing or YourCover can print (and optionally frame) the gift for you. If you decide to self-print, purchase the photo file download which will be delivered instantly on the order confirmation (thank you) page and also instantly emailed to you. After printing, just pop it into a frame and you'll have a last minute gift that your boss will love! Follow these easy directions to create a unique, personalized Boss' Day gift that will be the talk of the office! Go to YourCover.com and choose the Best Boss magazine cover template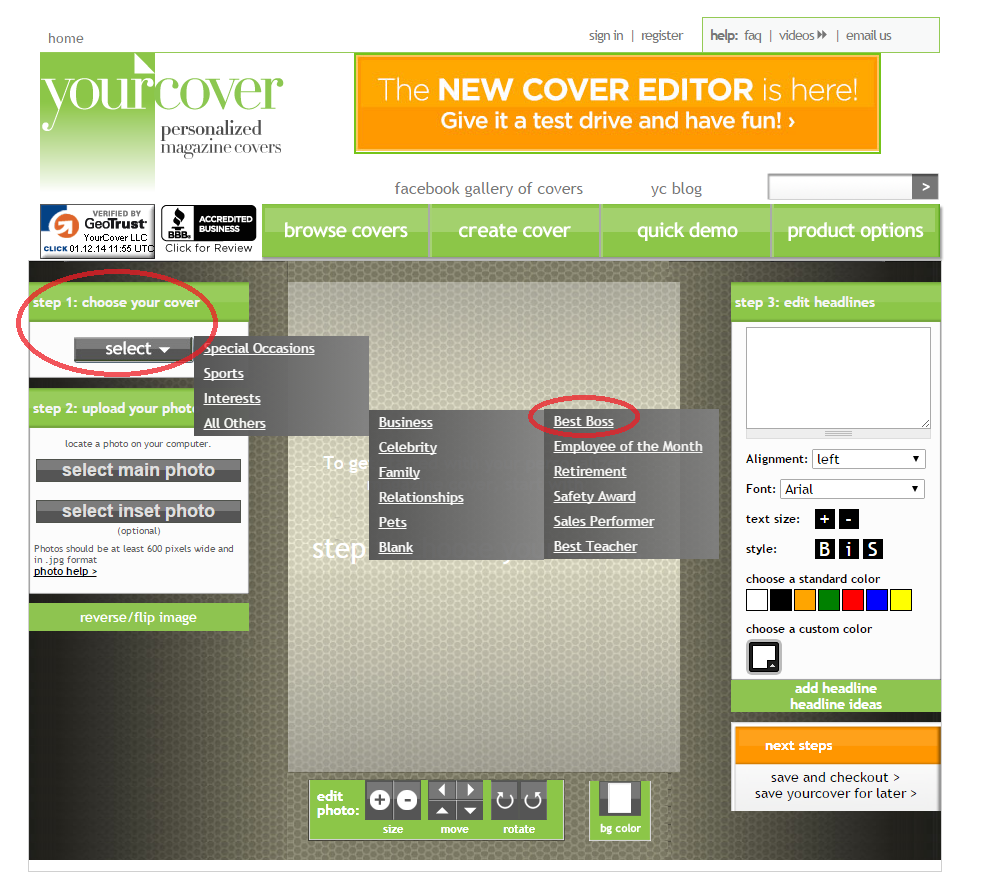 Click "select main photo" to choose a photo from your computer
Click on each textbox (red dotted line will appear around it) and then change the text to be about your boss. The new text is typed into the box on the right. (You can also change the font style, size & color as well as drag the text box to a different location on the cover.)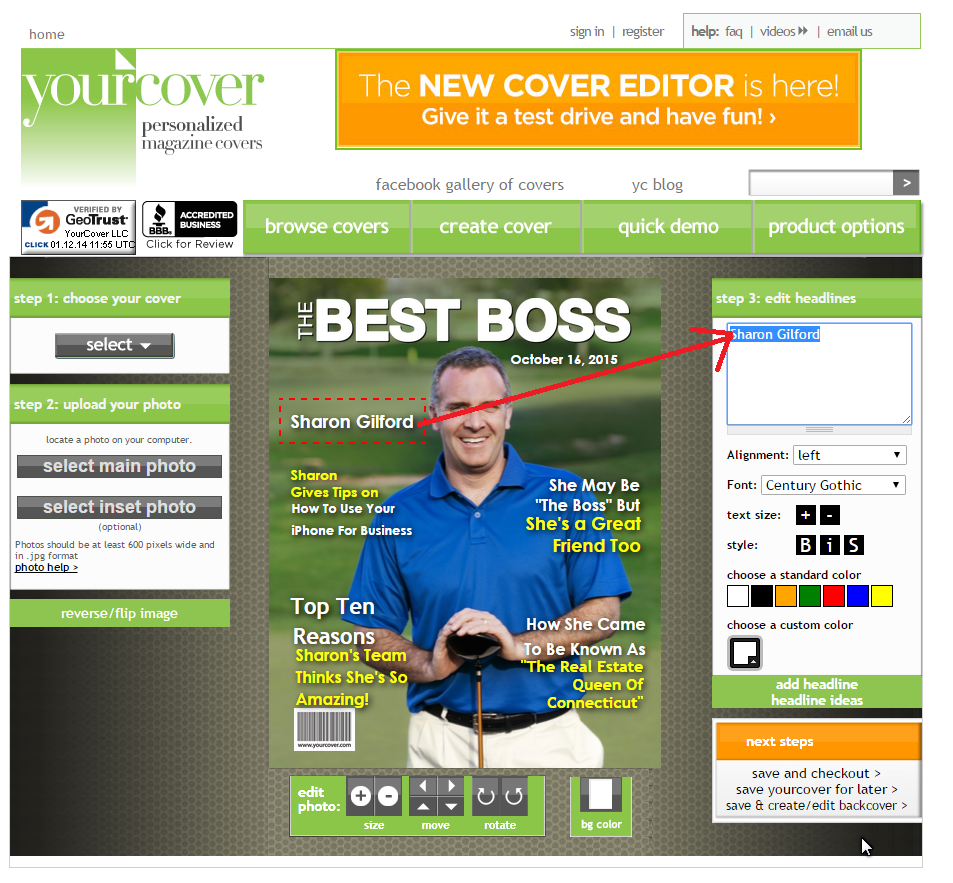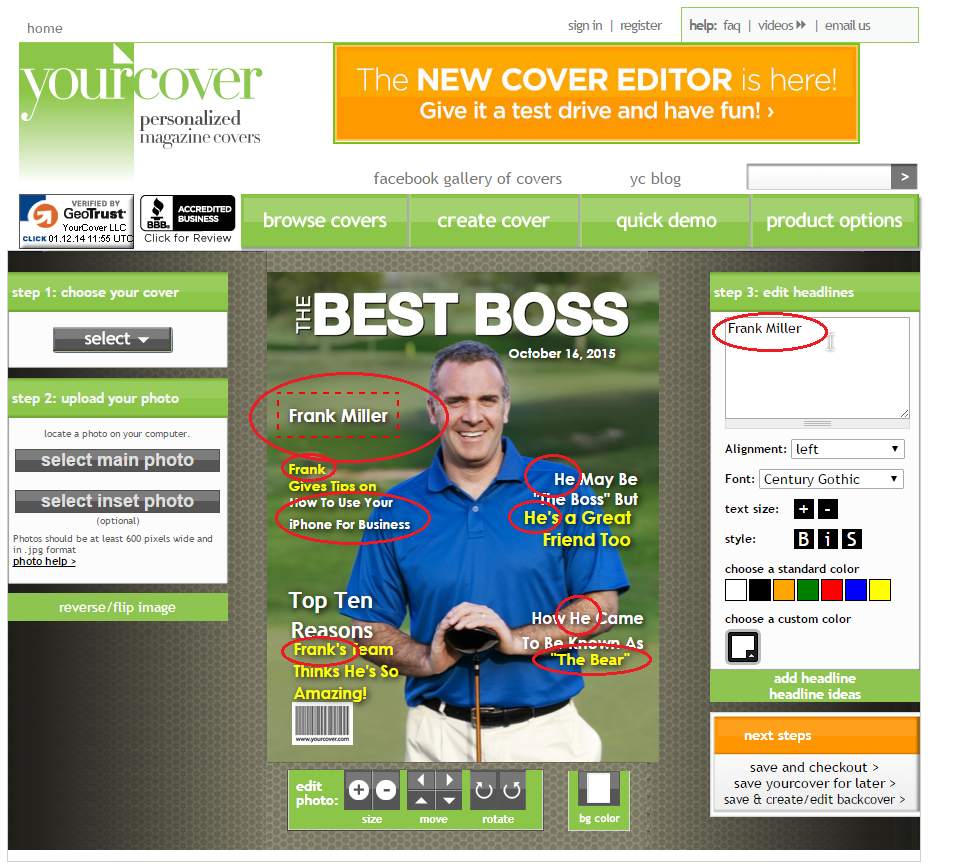 Save the cover with a project name (you will also need to register on the site with your email address so that there is an account to which the cover can be saved)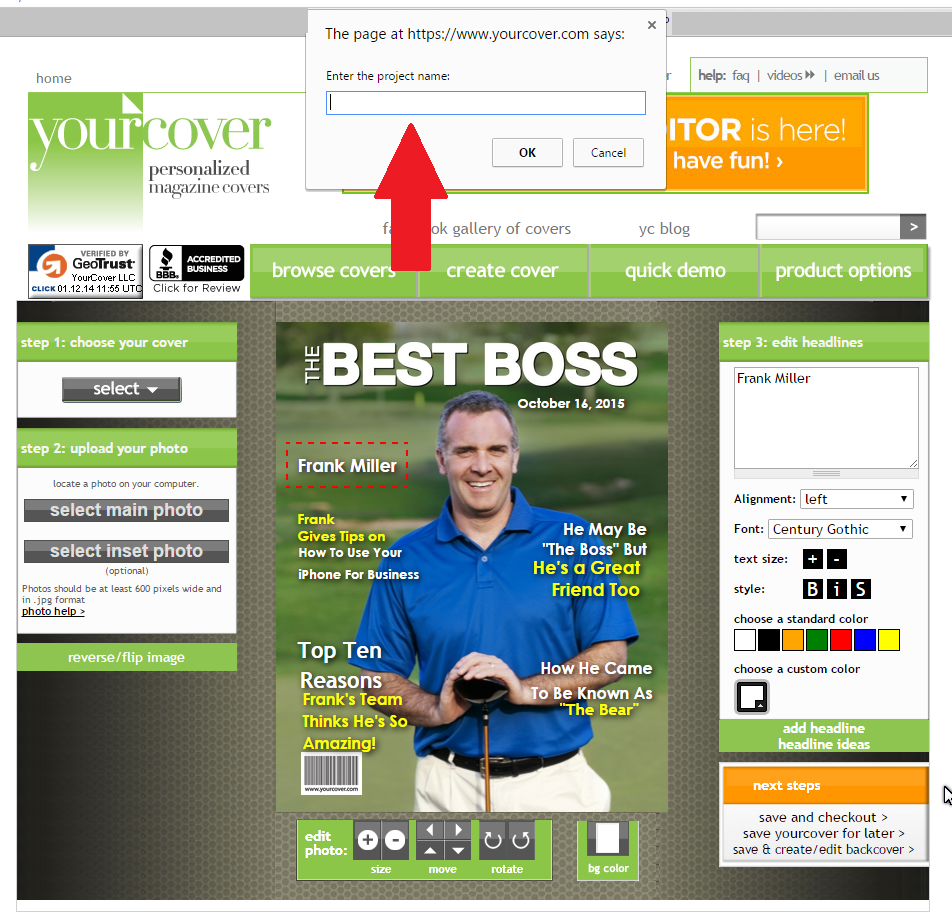 From the "My Covers" area of your account you will see a thumbnail image of your magazine cover, continue to edit it later or click "order it now" to purchase
Choose the photo file download for instant delivery or choose the photo print (and 1 of 4 optional frames) and we'll produce your gift for you. (Additional gifts include mouse pads, t-shirts, mugs and posters.)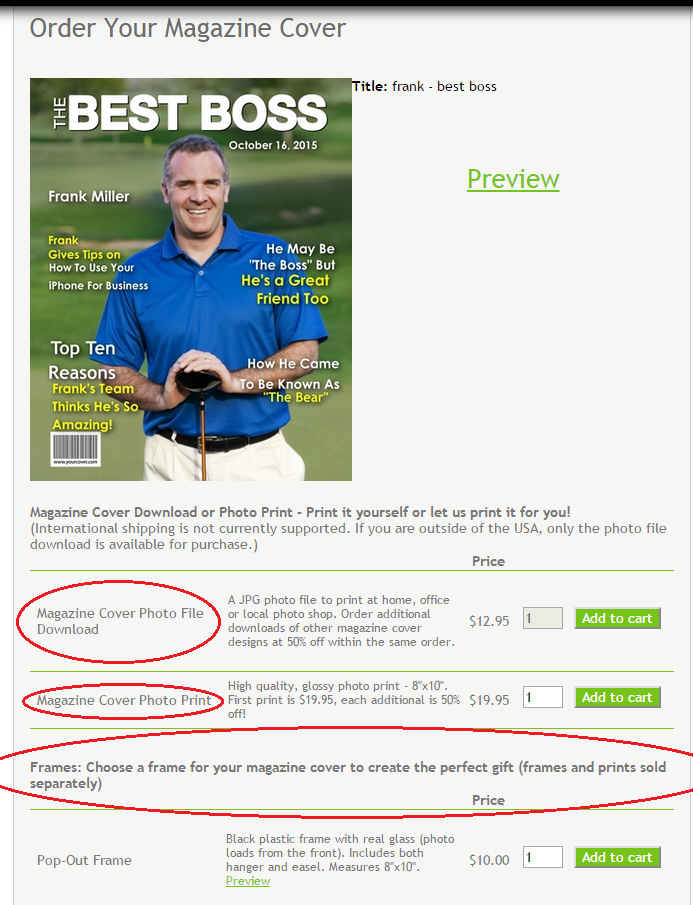 YourCover offers over 80 templates for every interest, personality or holiday. Maybe your boss loves to golf or hunt or cook or travel – we've got magazine cover templates for all of them. Or make up your own title using our blank template. Make Boss' Day 2015 a day to remember with a unique bosses gift from YourCover! If you have any questions, feel free to reach out to us at support@yourcover.com, we're always happy to help!