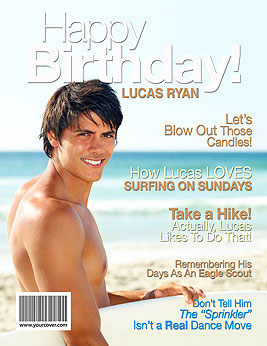 Overview
Description
Reviews
A personalized birthday magazine cover is a unique gift idea to celebrate any birthday. Front cover features your photo along with custom headlines all about the person who's birthday is being celebrated. This unique gift will be the hit of the party!
Description:
Everyone wants to be a star, especially on their birthday. If you are looking for a great birthday gift idea, the best way to make this dream come true is to put the birthday boy or girl on their very own magazine cover. A personalized magazine cover is a unique birthday gift for celebrating a 1st birthday, a 50th birthday or any number between or above. Completely customizable from the font to the taglines, YourCover lets you put your friend or loved one on their very own fake magazine cover. This unique personalized birthday gift will be the hit of the party.
When creating this unique birthday gift, you can include special memories you've shared with the cover star and don't forget to mention all the funny stories! The magazine cover design tool at YourCover provides default headlines for you to customize as well as a library of suggestions. The unique back cover feature is available just in case you have a more photos and info than can fit on the front. When you are done you will have created a personalized birthday gift that will be enjoyed for years to come.
In a hurry and need a last minute birthday gift? Just upload your photo, personalize the headlines and you have created a wonderfully unique birthday gift perfect for celebrating any milestone birthday. Choose our downloadable photo file to print your fake magazine cover at home or let us print it for you. We also offer frames, posters, mugs and other accessories as well as rush shipping and international shipping. The best birthday gift idea is a personalized magazine cover from YourCover – a gift as unique as the recipient!