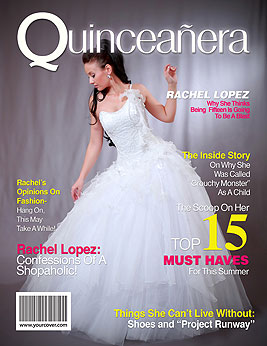 Overview
Description
Reviews
The Quinceanera personalized magazine cover is a unique 15th birthday gift idea that will be the hit of the party. The magazine cover features your photo along with custom headlines all about the Quince - this unique gift will bring a smile and happy memories for years to come.
Description:
Celebrating a 15th birthday is a coming of age milestone within the Hispanic community. Parties range from small family affairs to big-budget events with caterers, ball gowns and special waltzes. If you have been searching for a unique Quinceanera gift, a great idea is a personalized magazine cover featuring her photo along with custom headlines all about her life, family and friends. A dream of many teenage girls is to star on a magazine cover, now you can give a personalized Quinceanera gift that will make the dream come true when you create a fake magazine cover that is all about her!
To make a fake magazine cover for celebrating a 15th birthday, choose the Quinceanera template, upload a high quality photo and then customize the default headlines to reflect her true life story. The magazine cover generator allows you to add headlines, write new ones, and change colors and text size to make a personalized magazine cover that is as unique as the Quinceanera. A unique back cover feature is available that allows you to add more photos and special memories shared with the Quinceanera.
The Quinceanera magazine cover is available as a photo file download that you print yourself at home or at a local photo shop or print shop (great last minute gift). Or let YourCover print your personalized magazine cover for you – we also offer a selection of frames to complete your personalized Quinceanera gift along with various shipping methods. You can also choose to have your fake magazine cover printed on a poster, mug, mouse pad or t-shirt.
Get started today on a unique Quinceanera gift that will be the hit of the party.