Fri, 01/22/2016 - 16:01

by

admin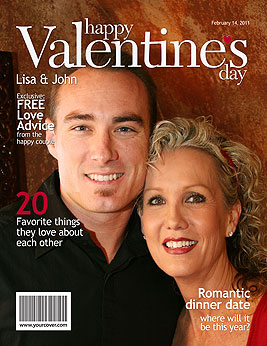 It looms there every year about this time.  February 14th – St. Valentine's Day.  A day to celebrate the ones you love.  Sure you could buy flowers, go out to a fancy dinner.  Or even cook your love a fancy dinner – not all that romantic since you will probably be a bit sweaty and messy after all that time in the kitchen.  Not to mention tired.  And how will that work exactly? Do you really want to win on Valentine's Day?  You've got photos on your phone right?  Why not take those photos and create a truly unique Valentine's Day gift?  A gift that will show how much you care and will make it appear as if you did all kinds of work, (which is not the case, but who cares right?).  Take the credit – and the spoils! YourCover is ready to help you put something cool together fast and easy. Putting your Valentine on the cover of a personalized fake magazine cover could be the springboard to a great night and who knows what might come after Did we mention it is sooooo easy?  You can choose your own title, or choose a YourCover Valentine's Day template (there's lots of others).  You make the completely personalized fake magazine cover in real-time and if all you want is a downloadable jpeg you can count it being sent as soon as you order! If you want to have YourCover.com print and frame it for you then you'll need a bit more time for printing and shipping to wherever and whomever you designate. You want to win with a unique Valentine's Day gift?  YourCover is your ticket!
Thu, 11/12/2015 - 16:29

by

admin
Getting family and friends together under the premise of good food and drink is always a winning combination.  Here in the United States Thanksgiving is the real kick-off to the family holiday get-togethers.  Football, turkey, stuffing and all that goes with it makes everyone festive and more than a bit happy.  Sometimes it's difficult to remember one Thanksgiving from another! A YourCover personalized magazine cover can help you keep those memories fresh as well as keep you smiling.  Take lots of photos of the annual family touch football game as you can use them in your unique creation! Using the YourCover updated and super-fast cover editor you can include such memories as: "Remember the time Uncle Scott ate BOTH the turkey legs?" Or "Who Does It Better? Aunt Sheila vs Aunt Nancy - The Stuffing Battle Continues!" Or take some photos of guests who are fast asleep in a turkey coma after the big meal but are pretending to watch football when all they are doing is napping BEFORE THEY EAT AGAIN!  After all the leftovers from Thanksgiving are not to be undervalued. You can make your own title like "TURKEY DAY" or GRANDMA's HOUSE, or maybe just THANKSGIVING magazine.  It doesn't matter as you are only limited to your own imagination.   Put it all together and have it professionally printed and framed, or print it at home on your home printer!  Or keep it simple and download the image file and email it to the family and post it on social media – even before some of the revelers arrive home.  It's that fast to create, save and send a YourCover personalized gift.
Wed, 02/04/2015 - 08:22

by

admin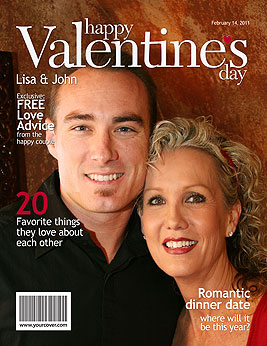 Chocolates are great but don't last long. Flowers are also nice and last a little longer but also are soon gone and then forgotten. Don't you always think – if I had more time I could do something really cool for Valentine's Day?  A completely personalized Valentine's Day gift from YourCover.com answers the call perfectly. You have great photos of your Valentine and putting them to work to create a uniquely personalized fake magazine cover will make this Valentine's Day the best you've had in a long time – maybe ever!   Choose from a variety of fake magazine cover templates or create your own.  It's fast, it's easy, it's inexpensive and you can print it out yourself, we send you a jpeg photo file, or have YourCover.com print it for you. If you want to go large, you can even purchase a smart-looking photo frame to make your gift even better.  Or go larger and order a poster!   So check it out and you will then know that making a personalized Valentine's Day gift is almost as fun as giving it to your Valentine!