Baseball? Football? It's HOCKEY season!!!
by:

admin

, 10/22/2015 - 14:20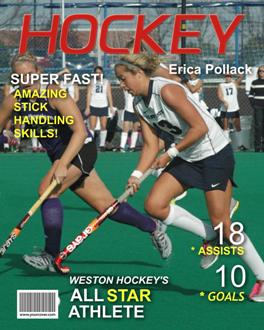 The Major League Baseball World Series starts in less than a week.  This year if the teams could play after Election Day in November if The Series goes the full seven games.  The NFL season is also approaching the halfway point.  The NBA season is also slated to tip-off in late October.  But what about hockey? The scholastic Field Hockey season is nearing the end of the regular season having been in full bloom for almost two months already.  The National Hockey League season is also underway.  Field Hockey is played almost exclusively by girls and women in the U.S., while in the U.K it is a very popular men's sport.  Really. Whether you are celebrating your scholastic, club, or travel team, remembering the high points of the field hockey season, teammates, and coaches is important.  If you are looking for a unique field hockey gift for the team or coach, a personalized HOCKEY magazine cover from YourCover.com is a great way to keep those memories fresh and in the forefront.  And it's so easy and fast! The HOCKEY template is ready to go, all you need to do is upload a photo or two, and customize the headlines to be about the field hockey player, coach or team on the front cover. YourCover can professionally print and frame your team gift or download an instant jpg photo file and print it yourself.  It's fast, easy, personal, and nobody else you know will do it. Try YourCover today for a unique field hockey team or coach's gift!