How To Make A Custom Pregnancy Magazine Cover
by:

matt.decof_79274

, 09/21/2017 - 08:49
One of the most wonderful things about life is the beauty of pregnancy and birth. Because of this, it's not uncommon that many parents-to-be love sharing the experience with others! There's a great way to do so in a more unique way — a pregnancy magazine cover! With a personalized pregnancy magazine cover, share the news and/or some of the best moments of your pregnancy with your closest friends and family!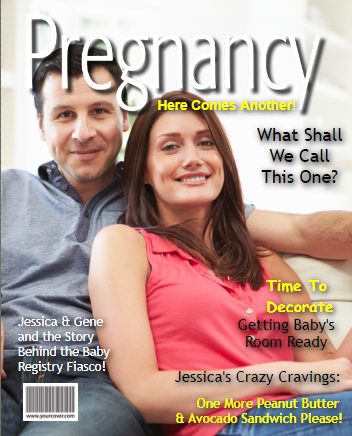 Pregnancy Progress
The first step is to upload a photo - you can choose one that shows off your beautiful baby bump or maybe even the sonogram photo. This is a great and loving way to give your audience progress on how you're doing.
Share Stories
The headline text is where stories are best told! Here, you can customize the headlines to talk about things such as what foods you're craving, when the baby likes to kick, and if there is anything that you're enjoying about the experience (like shopping for baby clothes). These custom headlines are where your pregnancy magazine cover truly becomes your own unique keepsake!
Announce The Shower
Another idea is to have the fake magazine cover double as a place to showcase the baby shower. You can include the date, location and more for your guests to know for the big day. This works for surprise parties, or for those who just need an idea of what to buy for the mommy and daddy-to-be!
Of course, there are a ton of different custom magazine covers for all different baby-related events ranging from girl & boy covers to grandparent covers!
Your custom cover deserves that totally personal touch! To get started, head on over to the
Cover Editor
and begin creating your magazine cover. For examples of previously created magazines, make sure to like us on
Facebook
,  find us on
Pinterest
or browse our
magazine cover templates
!