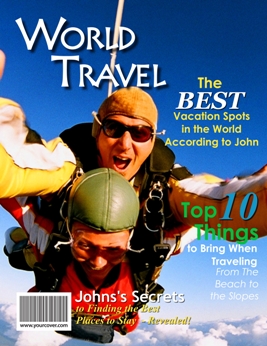 Overview
Description
Reviews
Unique gift or keepsake for the traveler - a personalized World Travel magazine cover featuring their photo and custom headlines all about their jet-set lifestyle! Great for birthdays, holidays or to as a keepsake of a special trip.
Description:
A unique gift for the person who loves to travel is a personalized magazine cover that puts their fabulous journeys front and center. Whether you need a unique gift or a special keepsake, the World Traveler personalized magazine cover template is the perfect memento for remembering exciting travel adventures.
Use the YourCover magazine cover generator to upload a photo of your world traveler or a photo from a recent trip, then customize the headlines to feature the special memories from those wondrous journeys. Choose from our wide variety of headlines so that when completed, you'll have a gift as unique as the person or trip featured on the front cover.
Our one-of-a-kind back cover feature allows you to add a special message to your world traveler, as well as additional photos. If you need a last minute gift, you can choose a downloadable photo file to print yourself, or let us print and frame your gift for you. Rush shipping and international shipping are also available as well as a variety of frames, mugs, posters, and other accessories.
When searching for a unique gift to celebrate a treasured memory, create and personalize a fake magazine cover for a gift that will be kept for years to come. You'll have a personalized gift that's as special as the person starring on the front cover.