Do you know an Animal Lover That Needs a Unique Gift?

If you know a friend, family member, or significant other who is madly in love with their animal, or if you yourself are an animal lover, giving them the standard pet gift for a special occasion won't cut it. So don't even think about the typical squeaky pet toy, or a brand new sweater for their pooch. You want to give a unique pet lover gift that expresses your friend's feelings for their lovable furry friend!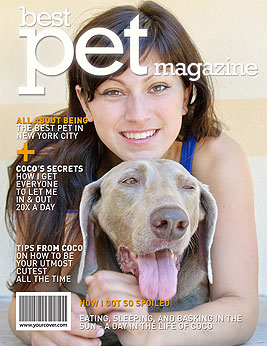 Fortunately, the solution to your personalized pet gift ideas is right here! Why not create a unique animal gift that showcases your friend's pet on a magazine cover? Giving the gift of a customized pet magazine cover for a birthday, the holidays or for no reason at all is the best way for them to reminisce about all the great times they've had with their pet. Whether it is being made as a dog lover gift or cat lover gift, your friend will appreciate all the hard work you put into it and will get a kick out of it too!
To create this unique gift idea for an animal lover you know, go to www.YourCover.com and upload a photo into one of our templates and personalize the headlines, colors and fonts using our free tool. Make a sentimental or funny cover featuring the adorable pet, and include funny, personal jokes, or stories as bylines.
Alternatively, you can get really crazy and customize your magazine cover for a pet lover you know, by making a personalized magazine cover titled "Prized Poodle," "National Geographic," or "Best in Show." The sky is the limit creatively, but the good news is that the built-in templates offer you an easy platform for both humor and sentiment. Best of all, you should be able to upload your pictures, fill out your templates, and order the final product in just one session at the computer – no need to agonize for days over a homemade arts and crafts project. Also, this personalized pet magazine cover gift is affordable and the pricing includes shipping. Get started on your unique pet gift today!

For your next occasion or appreciation gift, consider a personalized magazine cover to make that person feel extra special. For just about every occasion imaginable, a personalized magazine cover is the perfect gift. The recipient will look at it again and again and the acrylic frame provided with your order is the ideal way to display the magazine. Make someone's day extraordinary by creating and giving a personalized magazine cover from YourCover.