Sweet 16 & Quinceañera Gifts
Create Sweet 16 Memories That Will Last A Lifetime!
Sweet 16 is a long awaited milestone that some girls dream about for years. It is significant in the life of a girl because it signifies her transition from childhood to that of a woman. Parents look forward to this milestone too, just like they cherished the first steps, first words and first day of school.

Turning 16 is a big deal. It means taking a driver's test, being given more responsibility and more freedom, and planning for the future. However, for most girls - Sweet 16 means a party! Oftentimes, it is the first time she is involved in planning a big event.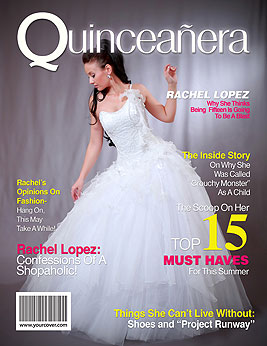 In fact, by definition Sweet 16 is a traditional birthday party for girls when they turn 16. It is popular in the United States, Canada and some parts of the UK. Those with a Spanish or Latin American heritage may celebrate Quinceañera, a young woman's celebration of her fifteenth birthday.
If you are a parent of a girl with a Sweet 16 or Quinceañera in her future, there are a few 'rules' to consider when planning and making the decisions about the event…
Talk to your daughter
Talk to your daughter about what type of party she would like – remember this is HER party! Don't try to fulfill your dreams, fulfill the dreams and wishes of your daughter.
Let her pick the guest list
Let her pick the guest list – even if it includes some of her friends that you don't care for. This is her party and she wants to be surrounded by people she loves and hangs out with!
The right theme
The party theme should revolve around what your teen loves most. Think about your daughter's interests and favorite things and that should help the two of you come up with a theme and decide what the party will be like. For example, if your daughter is into acting, make the party into a red carpet event where she is the star. If she loves the beach, have the party at the beach or a pool set up to look like a beach. Be creative and have fun!
Party favors
Don't forget about finding the perfect party favors. Consider favors that go with your party theme. Another great idea is to create YourCover magazine covers and give them to the guests.


A special gift
Those tips are helpful for anyone planning a Sweet 16 celebration. But what about if you are the family member or friend attending a Sweet 16 party? What type of gift should you get for the guest of honor?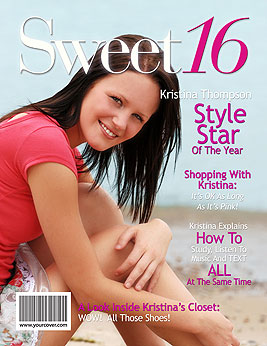 It is important that your gift be meaningful, lasting and showcase your feelings for the special girl. One truly unique sweet 16 gift is to create a YourCover magazine cover. Every girl wants to feel like a celebrity on her sixteenth birthday and you can help her by creating a YourCover personalized magazine cover. Just imagine her reaction when she sees her face adorning the cover of a magazine! It's the gift that says you adore her and that she is so important to you.
YourCover makes it so easy to create a lasting memory for your Sweet 16. All you need is some great digital pictures of your teen and then you start creating the cover right on the website. YourCover has great cover designs to choose from and if you are struggling with selecting just the right words, the YourCover templates can help you! Imagine, in just a few minutes you will have created a lasting memory that the birthday girl and her friends will have so much fun looking at again and again!
Make any Sweet 16 party extraordinary with a YourCover personalized magazine cover as a birthday gift or as party favors for all the guests!