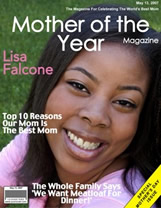 When Mother's Day rolls around and you're in a panic, you could spring for one of the usual humdrum presents – a bouquet of flowers, a box of gourmet chocolates, a gift certificate to a store, etc. But why settle for the generic when there's an amazing, low cost, super fun Mother's Day gift idea that you can customize yourself – right on the internet?
What is this greatest of unique Mother's Day gifts? The answer is simple yet surprising: a personalized magazine cover. Using a free internet template, you can showcase your inner copy editor, layout artist, and photo editor in a spirited display of love for your mom. Directly upload photos you have of your mom - include special dates, inside jokes, nicknames, or other fun bon mots as "headlines". You can add special facts about your mother, lyrics to a poem about her, extra photos, or even a personalized top ten list.
Best of all, unlike other great Mother's Day gift ideas, you don't have to spend a fortune on gimmicks or waste hours of your time engineering an elaborate custom designed idea. And your treasured fun memento will last decades. Your mom can display the finished framed cover on the mantel, place it on her coffee table for guests, or even mass print the cover for use as a display centerpiece at a house party. Sure, there are other unique Mother's Day gifts out there – but most of these offer few chances to be personal, heartfelt, and creative without veering into territory that's overly cheesy. This time – why not consider something both spectacular and memorable?
For your Mother's Day personalized magazine covers, check out yourcover.com, the internet's one-stop shop for awesome free online magazine cover design.
To create this one-of-a-kind personalized gift for her here's all you do:
Go to www.yourcover.com
Click "Make Your Cover Now"
Enter information about the event
Upload photo
Personalize each headline using the text suggestion tool.
It's as simple as that. In a week or less you'll receive a stunning personalized magazine cover printed in full color on professional glossy paper--with her smiling face beaming for all the world to see. It's hard to imagine a more clever, creative personalized gift for her. And only YourCover gives you the capability to do it entirely online.
To find out more about creating a YourCover personalized magazine cover that puts the woman in your life squarely in the limelight pay a visit to our home page at www.yourcover.com.