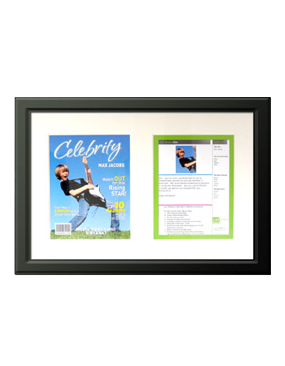 Deluxe Black Frame with 2 Openings
Description:
Our top of the line product - your front and back magazine cover prints are placed side by side in the 8x10 inch openings cut into the deluxe white matting and then professionally framed in a stunning black wood frame.
The overall frame measures 21.75" x 12.25" and features a 2" white mat with two 8" x 10" openings to showcase your front and back personalized magazine covers. This deluxe frame is an elegant way to present this unique gift when celebrating milestone events such as a retirement, graduation, anniversary, wedding or birthday.
(Magazine cover prints are sold separately from the frame.)
Description:
Black Double-Opening Frame with White Mat